Thursday, October 19, 2023
We are thrilled to announced October 19th, 2023 as the date of our 6th Silver Pixel Awards, bringing together the digital Hollywood community to celebrate and honor the best and the brightest leaders for their contributions in digital and data marketing innovation.
This year's Silver Pixel Honoree is Jessica Thurber Hemingway, Head of Social and Influencer Marketing at Amazon Studios, formerly of Warner Bros. Pictures. She leads a global team responsible for social and influencer campaigns for all Amazon Original Movies and Series releases. Most recently she led the campaigns for AIR, THE LORD OF THE RINGS: THE RINGS OF POWER, and SWARM. Thurber has over 15 years of entertainment marketing expertise, including 11 years at Warner Bros, where she last served as Senior Vice President, Worldwide Digital Marketing. During her tenure there, she oversaw the digital marketing efforts for WONDER WOMAN, FANTASTIC BEASTS and WHERE TO FIND THEM, POKEMON DETECTIVE PIKACHU, MAGIC MIKE and THE CONJURING / ANNABELLE film series.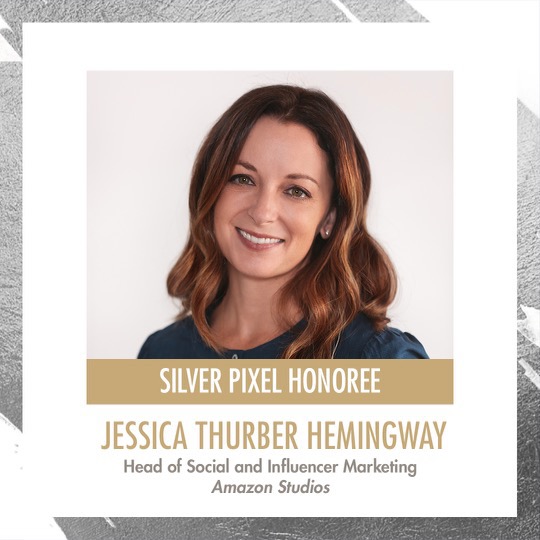 "I have been a strong supporter of HIP and its vision since its inception many years ago. This event celebrates the creativity and contributions of the entire digital Hollywood community – past, present and future. To be recognized by friends and colleagues that I so deeply respect and admire is both an honor and a privilege."
– Jess Thurber
The Rising Pixel Honoree is Eric Dachman, Executive Director of Digital Marketing at Lionsgate. Dachman has been at the studio for over 4 years, previously at IMAX. At Lionsgate, his current responsibilities include developing and implementing the digital strategies for the upcoming slate of theatrical movies. One of his greatest and most recent accomplishments has been growing the Lionsgate TikTok account to over 5M followers. When there's spare time, you'll find him deep into Adobe Premiere, cutting and editing TikToks.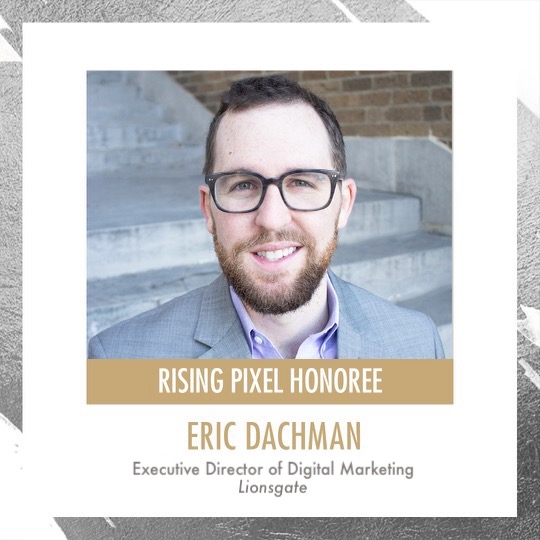 "Being selected as this year's Rising Pixel is an absolute honor. I was completely shocked when I heard the news and now I am beyond excited to be part of such an incredible group of honorees."
– Eric Dachman
Jim Evans, founder of Division 13 Design Group, is the Visionary Pixel Honoree. Evans is an artist and owner of the digital design group Division 13, an entertainment industry creative powerhouse. Under his leadership the team has worked with nearly every studio in town to build a portfolio of award-winning digital campaigns, for some of the biggest films of the last two decades, running the gamut from THE RING and HELLBOY to KUNG FU PANDA and the MADAGASCAR franchise.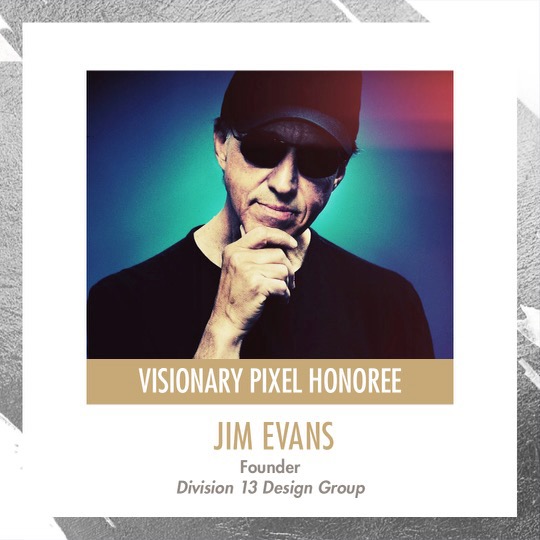 "Being honored for my digital work by Hollywood in Pixels feels like a dream come true."
– Jim Evans
---
Founded in 2015, The Silver Pixel Awards honors groundbreaking campaigns from the past and present that set a new path in the evolution of digital marketing. Attendees of The Silver Pixel Awards are over 300 of digital Hollywood's leaders – studio digital marketing executives, heads of digital entertainment creative agencies, as well as digital platforms and media.
Bettina Sherick, Founder of Hollywood In Pixels, Inc, comments:
"I'm thrilled to once again honor our leaders and achievers. Each Silver Pixels event has been uniquely special, and I look forward to gathering our digital community together for a festive evening."
For future sponsorship opportunities, please reach out to us at: sponsorships@hollywoodinpixels.org
---